It may seem to you that your child's bedroom does not require a lot; it can simply be a room with all their essentials and a little bit of design. However, contrary to that belief, your kid's bedroom does require some more efforts and thoughts into it. The reason is the same as to why you design and decorate a master bedroom – to cast a certain ambience and mood in the room that, in turn, affects the mind. To aid you in that endeavour, here a few tips that may help you.
Do Consider the Child's Hobbies and Interests
Infusing elements around the kid's preferences and hobbies into their room will reflect their personality, which is extremely important. Their living space needs to have a certain depiction of what the child likes.
Don't Overlook Their Age
The room should also give justice to the child's age. You cannot have an extremely chirpy and playful room for a thirteen year old. At the same time, you cannot have a space designed using elegant, master bedroom features.
Incorporate Safety
Install carpeted floors and furniture that does not block the open centre area of the room. Try to keep them in close proximity to the wall. Moreover, try having rounded and foamed edges of furniture, and avoid placing delicate and fragile show pieces around the room.
Don't Add Too Much Furniture
Although you cannot devoid the room of furniture, stick to adding minimal ones. Place only the essential furnishings and the ones those are of actual value to the child and the bedroom.
Create Specific Zones
Create specific zones in the room for the child's leisure requirements and more. Divide the living space with certain elements for particular purposes. Say, a work desk for some studying, a corner to play or get creative at, and of course, the bed to rest and read a book.
Don't Inculcate Too Many Trends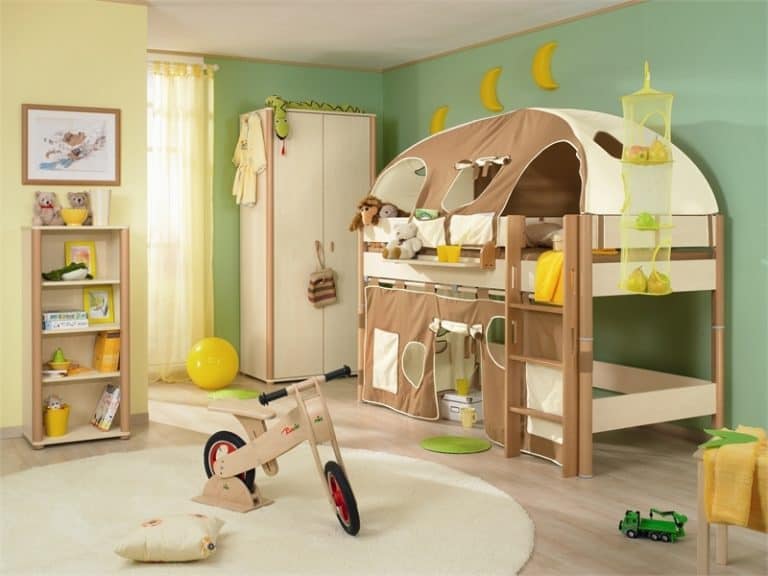 It is crucial to make use of some trends to create a certain look in the room, but making the bedroom all about them will only create a daunting ambience instead of a warm and welcoming one.
How a room looks is not just meant for aesthetics but also for its impact on you. Having a deep understanding of the same, we take utmost attention to detail in each of our holiday homes across India and urge you to do the same with your home.
Picture Courtesy: Interior Design Ideas, HGTV, Ikea and Funny-Kids-Room-Design-With-Camp_Naunce