There is something magical about Goa villas. They have a sense of old world charm fused with local flair and tradition. All our Isprava holiday homes in Goa are built keeping in mind the Portuguese history of the state. Did you know Portugal ruled Goa for around 450 years? This means that apart from the language, culture and food of Goa, their architecture has had strong influences from the European nation.
Building a villa in Goa meant you had to keep in mind a few things. The first was of course the fierce monsoons which could create havoc in your home if you were not careful. Under Portuguese rule, a lot of Goans would travel abroad and bring home relics and ideas from other places. This means that Goan villas are not the product of just one culture but an amalgamation of people, places and ideas. Most of the churches in Goa are built in a traditional Baroque style borrowed from the Portuguese. As much as Goa was a part of the Portuguese Empire, they never forgot their roots and held on to their Indian heritage very dearly.
You will notice that most villas in Goa are brightly coloured. You may think this is because of the eccentricity of a particular owner however under Portuguese rule, it was a rule that every home needed to be painted or they risked being fined. There was another rule that stated that no private home may be painted in while which is why you often see homes painted pastel colours with white piping around the roof and moldings.
Another interesting feature is the use of balconies, porches or balcões in Goan homes. These covered porches or verandas often faced the street and played in to the social nature of Goans. Men and women sat here and would chat with neighbours, play cards or enjoy a cup of tea. These porches are often decorated and bordered by ornamental pillars that would then indicate the wealth of the owners. Rich landlords would have large homes with high plinths and winding staircases leading to the front door or balcaõ.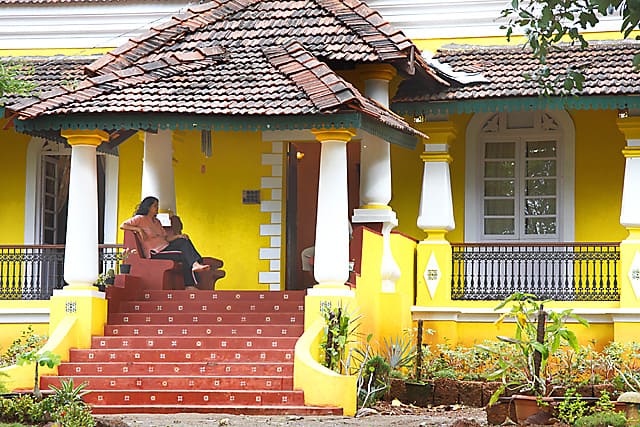 The interiors of these homes would generally have the front door leading to a foyer. This would open up into the main hall which was used for entertaining large numbers of guests. A smaller hall for intimate socializing would also exist. Some larger homes would house their own chapel. Many homes would be centered around an open courtyard, similar to many of Isprava's luxury holiday homes in Goa, with bedrooms scattered around. It is interesting to see how the culture of another country, came together so easily with Indian traditions to create this unique flow of architecture and style in Goa.